"We have had Rodger Powell and his crew of Powell's Pro Building and Remodeling do a number of jobs at our residence. We have been very happy with his work, professionalism and concern of our needs in our remodeling jobs. He has done an extremely good job, with the finest materials available and the workmanship has been excellent. He recently did another remodel for our residence and continues to do excellent work. Rodger and his crew go out of their way to help and service the needs of their customers and we highly recommend them."
Pete and Vicky Grunander – Cottonwood Heights, Utah
"I have completed over 6 projects with Rodger Powell of Powell's Pro Building and Remodeling. I find these experienced craftsman to be prompt, efficient and trustworthy."
Jeff and Kim Luke Millcreek, Utah
"Thank you for the outstanding job that you and your crew performed for us. As you know we had 11 frustrating years trying to discover the source of a bad leak in our home. You came out and in about a 1/2 hour diagnosis the source of the leak and gave us the news what had to be done to stop the leak. This entailed a complete tear down of our three decks and the entire back of our home down to the studs. Then they replaced the old rotten wood, redid the insulation, water proofing paper, new stucco, and a new concrete patio. They completed our new decks which were much better than the original ones. They also put in a new driveway for us and repaired/replaced the drywall on the inside of the house which had to be torn out during the redo of the exterior. You were diligent with coordinating with your crew and our insurance agent so that we could be reimbursed for as much as possible. Your foreman, Joe Torrence supervised this massive project and did a wonderful job. We find him to be extremely competent, efficient, and did excellent work. Sometimes even arriving early and working quite late. The weather was sometimes non cooperative and the county bureaucracy created some difficulties for us all. Never the less you and your crew persevered thru it all and you have left us with a leak free home with new decks and a new driveway that is far superior to what we had before. We both thank you for our peace of mind. We are very grateful and would give Powell's Pro a excellent reference. Rodger, you definitely delivered what you promised us."
Pat and Carol Massion – Salt Lake City, Utah
"I found Powell's while perusing Angie's List looking for someone to frame our small addition that I was contracting myself. Even though this isn't the kind of work they usually do they gave me the name and numbers of some of their contacts. WOW! Do people even help each other out this way anymore? Powell's did. They treated me with respect and left me feeling validated and hopeful. These are the kinds of people you want."
Jennifer Parr – Salt Lake City, Utah
"My wife and I highly recommend Rodger Powell and his crew with Powell's Pro. They did two remodel jobs for us. A complete redo of our kitchen, which had a large support beam overhead in the middle of the kitchen plus a new roof to correct ice build up on the front porch. Rodger was able to figure out how to lift the roof and raise the kitchen ceiling beam so that it was no longer visible. New cabinets, counter tops, tile floors and a walk in pantry make the kitchen a place our whole family can congregate with plenty of new open space. He also designed the roof so that it not only presented a permanent solution to the ice problem, but also provided a beautiful and more functional roof and porch with a new large storage space in the new attic.
His bid was the best of several we got. He started on time and finished when he said he would. He and the crew were attentive to cleanliness and our comfort during the projects.
Rodger was able to help us visualize color combinations and how things would look in the end. His imagination was so valuable supporting our original ideas and helping us form them into the final outcomes with which we are so very pleased."
Curtis White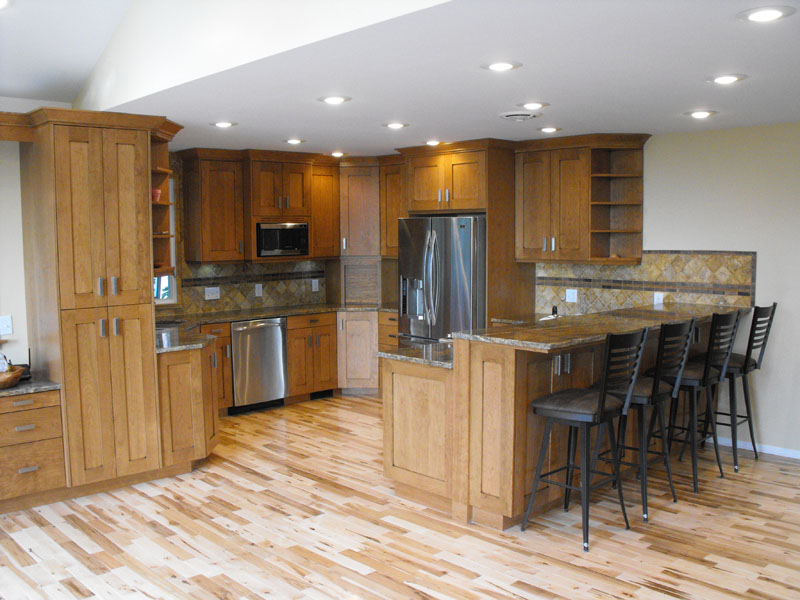 "We first used Powell's Pro for a small tile job over fifteen years ago. Since then Powell's Pro has completed all sorts of projects for us. From bathroom remodels to decks to remodeling the entire ground floor, including, a wonderful kitchen in our 100 year old Harvard/Yale home. We have referred Powell's Pro to our family and our many friends. We have always been pleased with the quality and value that Rodger Powell and his crew deliver. They are always on time and get things done quickly. Also, Rodger stands behind his work by solving problems months and sometimes even years after the original work was done. Thank you Powell's Pro!"
Tom Barton and Susan Eisenman –Salt Lake City, Utah
"Rodger Powell and his crew at Powell's Pro Building and Remodeling created a beautiful basement for us. It was a marvel in design and craftsmanship. We basically told Rodger what we had in mind and told him to GO FOR IT! We know he spent many hours in design trying to figure out how to layout the new kitchen area to give us the luxury of a beautiful and serviceable kitchen in our basement. Needless to say we love this new kitchen! We had a big window in the living room that looked out into one of those basement well liners. Rodger said they could put a new entryway door in there for us to make it easier for us to come and go. What a marvel that turned out to be. The crew then tackled the bathroom. They moved a bedroom wall and viola' they were able to put in a spa tub into the bathroom along with a new sink and toilet. A much better arrangement and so much prettier. We feel Rodger and his crew went out of their way to give us a beautiful living space. Rodger had work stacking up because we kept adding items but he said "This is your time, get what you want." They never complained about the additions. They did many extras that showed they wanted to give us the very best they could provide. They came & went on schedule & were true professionals all the way. Bravo to Rodger, Joe and David. Thank you so much."
John and Elaine DeNiro – Herriman, Utah
"Powell's Pro did our kitchen and bathroom remodel for us from start to finish in our 100 year old home. They helped us plan and design it out so it was exactly how we wanted it. Powell's Pro was not the lowest bid that we had received but after meeting with Rodger we were impressed with Rodger's knowledge and professionalism and that he would get the job done right! Powell's Pro are awesome to work with. This was a huge project that lasted several months. His crew is on time, polite and respectful. No loud music, no smoking, no cussing which is especially great since we have 5 young children. The Powell's tried to make our remodel as painless as possible. When we were gone on vacation for several weeks we came home to a clean house that had been dusted, swept, mopped, and vacuumed. (Construction dust happens!) They are a great team to work with and we will definitely use them again. We are so happy with our new kitchen and bathroom. All of the Powell's Pro team and subcontractors have been friendly and good to work with. They are prompt and on time with the schedule that they had set and have been very willing to answer our questions and to share their ideas of how to improve our existing plans. We have been very impressed with the high quality of the work that has been completed and would definitely recommend Powell's Pro to our friends and family."
Nate and Mindy Price – Lehi, Utah
"We hired Powell's Pro to build a steam shower/body wash system in our bathroom. They were clean and treated our home with respect. They were organized and showed up everyday like they said they would. They kept us informed of the daily progress. We were amazed at how quickly they completed our project. It turned out beautiful. The invoice was accurate and fair. Rodger was always there to answer our questions. We love their craftsmanship and working with them. We are looking forward to our next remodeling project with Powell's Pro!"
Jerry and Judy Mackie – Sandy, Utah
"We highly recommend Rodger Powell and his team at Powell's Pro Building and Remodeling. Rodger is a personable, easy to work with individual. He is direct and timely with communications and presented good ideas from his wealth of knowledge. Powell's Pro built a fabulous addition to our home. We were very pleased with the execution of the project from excavation to the interior finish. Friends who knew we were adding on would ask when we were starting. The addition matched into the existing building so well, they did not know it had been completed.
The team did a great job keeping on time, on budget and most importantly, with excellent craftsmanship. The crew of workers were great. They showed up every day on time. When they left for the evening, tools and materials were stowed and secured with the site left clean. The job went without a hitch. We even added a few tasks, including an entire new roof to the project. They handled all requested work flawlessly. We have had Powell's Pro return to complete other smaller projects with the same professional and timely results. We look forward to using Powell's Pro on other home remodeling projects."
Gary & Cathy Perryman